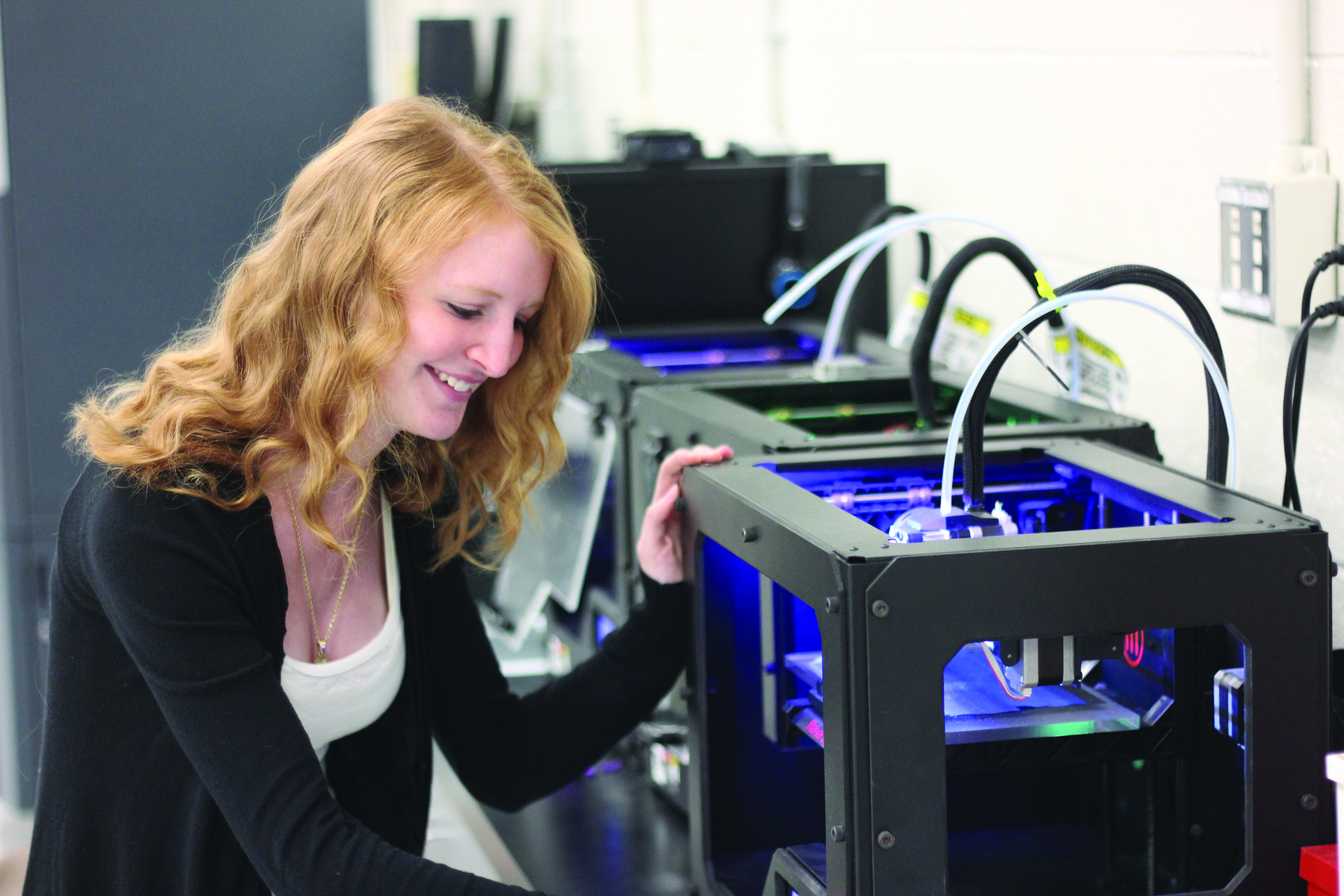 Photo by Justin Wier/The Jambar.
Last year Ashley Martof was named STEM's Intern of the Year. This year, she has been working hard and has been named a Believe in Ohio STEM Exemplar.
The Ohio Academy of Sciences named 58 students as STEM Exemplars this year. A STEM Exemplar is someone who serves as a role model for students to pursue STEM careers and innovative thinking.
She said she was excited and felt blessed when she found out she was named an exemplar.
"It is such a great feeling to go around and promote STEM education."
Students named as exemplars had to apply or be nominated for the title. Martof said that her professor Guha Manogharan encouraged her to apply.
"Of course I applied because this is a wonderful opportunity to express my love of teaching children by educating kids in STEM," Martof said.
When Martof was named STEM Intern of the Year, she had interned with America Makes, where she was able to show her passions for advanced manufacturing and education. One of her first projects at America Makes was develop an additive manufacturing curriculum for teachers.
Other projects Martof completed at America Makes include developing a 3D printing student camp, where she took children from 2D to 3D basics to designing and printing their own products in five days. All of these projects have led to her being named and exemplar.
"I have hosted STEM camps, mostly related to additive manufacturing," Martof said. "I am currently holding a 3D printing club two days a week at the Lewis School in Youngstown. I am also a part of the [Center for Innovation and Advanced Manufacturing] at YSU; this allows me to give tours and work on the 3D printing equipment at YSU. I also help out with any STEM related camps [or] sessions at YSU or in the community."
Martof is working on her master's in Industrial and Systems Engineering. She graduated with a bachelor's degree in industrial engineering.
Martof still has a few years left in her degree, but she said she knows additive manufacturing will definitely be in her future.
"My love for additive manufacturing continues to grow each day. I plan to look for a career in additive manufacturing," she said. "I am not sure if I will pursue a career in the actual manufacturing companies or fall towards the educational side. Either way, I will be happy!"